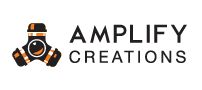 Headquartered in sunny Portugal, Amplify Creations is a self-funded and independent software organization founded by video-game and visual effects professionals, passionate about creating anything from innovative computer graphics technology to groundbreaking new video-games.
The team brings together a rich and extensive background in video-game development. Collectively, they have been involved in the development of a wide range of multi-platform video-games, and related technologies, at several different companies: Ildefonse (indie), Pinball Yeah!, Minebase and SlideTapPop by CodeRunners; Bounty Monkey, Zombie Apocalift, Over the Moon and Pongball Champions by Battlesheep; Trapped Dead: Lockdown by Bigmoon Studios; Floribella and Ugo Volt by Move Interactive; Toy Shop Tycoon, R3 (Ridiculous Road Racing) and Under Siege by Seed Studios; Brink by Splash Damage; League of Legends by Riot Games; Rust by Facepunch Studios.
The team's professional experience extends itself to general software development and production, as well as architectural visualization, Film and VFX, advertisement and TV.
Links
[
]